Died: In Pleasant Grove, February 6, 1858 of bilious fever,
Thorit Peck, aged 32 years.
Brother Peck was born in Locke, Cayuga County, New York. He emigrated with his mother to Jackson County, Missouri in the fall of 1833 and a few weeks after, was driven, with his mother, from Jackson to Caldwell County, by a ruthless mob, where he suffered, in conjunction with the Saints, all the mobbings and persecutions that could well be endured.
He moved with the Saints to the state of Illinois and was again exterminated under the cruel and disgraceful order of Governor Ford and had to seek an asylum in the midst of the uncultivated tribes of the western wilds and, while on this journey, to fill the unjust requirements of the U.S. Government, enlisted in the 'Mormon Battalion' in July and marched to California, enduring all the fatigue and hardships of that long, wearisome campaign, and in return for his services, was discharged unpaid, hundreds of miles from home.
He arrived in this Territory [Utah] in the year of 1848, was ordained a member of the 34th Quorum of Seventies on the 10th of May, 1857. He leaves a wife and three children.
Brother Peck was never known to waver in the faith of the gospel of Jesus Christ. He died in full hope of the reward awaiting the faithful. --Communicated.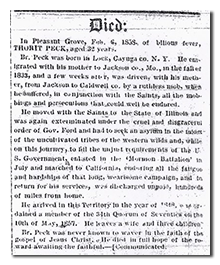 Thorit Peck, son of Warren Peck and Hannah Mattison of Cayuga county New York. Born May 30, 1826 in Cayuga County. Came to Utah Oct. 28, 1848, contingent Mormon Battalion.
Married Anna Young January, 1850, Salt Lake City (daughter of James Young and Elizabeth Seely of Ontario, Canada; pioneers 1847, Brigham Young company). She was born Oct. 8, 1834, and died Aug. 3, 1851.
Married Sarah Young 1852 (daughter of James Young and Elizabeth Seely) who was born Oct. 8, 1834, in Upper Canada, township of Whitby.
Their children:
Alma Mattison b. Sept. 30, 1853, m. Sarah W. Stock Oct. 31, 1871;
Thorit Randolph b. Nov. 12, 1854, d. May 28, 1859;
Anna B. b. Sept. 15, 1857, m. Frederick O. D. Deakin.
Family home Pleasant Grove, Utah. Sheriff of Utah county. Veteran Indian war. Teacher of fencing; lathe turner; farmer. Died at Pleasant Grove.
Article from "Pioneers and Prominent Men of Utah" page 1094 found in archive.org including the previous information.